"Where care comes first"
"Ayurved Aarogya Niketan", as the name suggests, offers various types of Ayurvedic treatments including Panchakarma.
Apart from regular treatments for routine ailments as well as chronic diseases, Ayurved Aarogya Niketan also offers a host of specialized therapeutic treatments to maintain good health.
The Ayurvedic therapeutics programs are directed towards curing, not just the symptoms of disease but the basic health problems or imbalances.
The following services are available in our well equipped Panchakarama chikitsalaya.
Panchakarma therapies
Diet and lifestyle management
Day care therapies
weight management
Constitution analysis (prakriti)
Panchakarma - Fivefold Purification therapy.
Vaman
Virechna
Basti
Raktamokshan
Nasya
Other allied beneficial therapies
Abhyanga :
Ayurvedic massage to the whole body or any particular part of the body, given with the herbal oils. It is also done as a preprocedure in various Panchakarma treatments. It rejuvenates the whole body, reduces stress and toxins.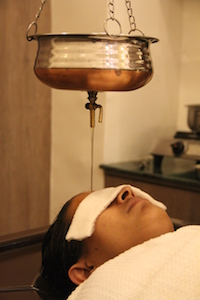 Shirodhara :
Pouring of warm medicated oil or milk or buttermilk continuously on the forehead for 30-45 min. It induces a completely relaxing and rejuvenating mental and physical state.
Netra tarpan :
Both the eyes are bathed in pure medicated ghee, for 10-15 min. Beneficial for various eye diseases.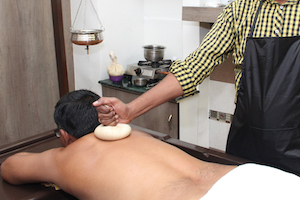 Pinda sweda :
This is specific type of sweda (Fomentation) along with massage. It is done with the special type of rice which is cooked in herbal warm milk.
Janubasti :
Bathing both the knees with warm medicated oil for 20-30 min.
Manyabasti :
Bathing back of the neck with warm medicated oil for 20-30 min.
Katibasti :
Bathing lower back with warm medicated oil for 20-30 min.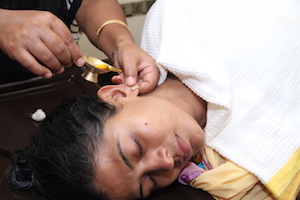 Karnapuran :
Administration of 2-3 drops of warm medicated oil in to the ear.
Purification before conception –
Healthy seeds bears a healthy fruit".
If the parent's sperm and ovum are pure the child is more likely to inherit a strong constitution and immunity.
Conversely, if parents conceive when they are physically or mentally weak this may impact negatively on the child's condition.